Bienvenidos, Welcome to Hostel Revolution Backpackers Quito, a cosy, clean laid back, hostel in Historical Quito, Ecuador.
Our Facilities include: Free wifi/internet throughout the hostel, 2 computers for guests to use, a Bar/Games room, a large fully equipped kitchen, a TV lounge with lots of DVDs, a roof-top terrace with great views of the city and a gas BBQ, clean, modern bathrooms with 4 shower stalls and 24hr hot water, comfortable beds, and a library with assorted up-to-date guide books and a book exchange.
 OUR HAPPY HOUR BEER AND WINE BAR
OUR MODERN KITCHEN
Our modern fully equipped kitchen is large enough to handle all your needs. Cook a meal for yourself or cook gourmet meals for your group. We have a large fridge, a microwave oven, a 4 burner gas range complete with oven and all the pots and pans necessary to cook and serve your meals. hostel-revolution-fully-equipped-kitchen.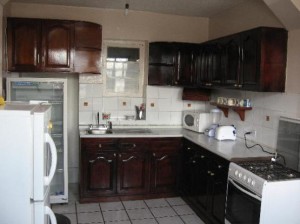 OUR 6 PERSON DORM ROOMS
Our 6 person dorm rooms have large beds and comfortable mattresses. Clean linen is supplied. There is a writing desk and Wi-Fi is available throughout the hostel. There are lockable storage drawers under the lower bunks. You can use your own lock or borrow one from reception.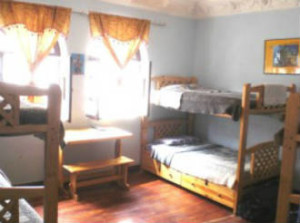 OUR WASHROOM AND SHOWERS
Our washroom and shower facilities are kept spotlessly clean. We have 4 large  private shower stalls for a 23 person hostel. This means no line-ups in the morning. We have hot water 24 hours a day.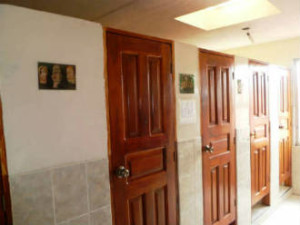 OUR ROOF-TOP TERRACE
Our roof-top terrace is a great place to sit, relax and to "CHILL OUT" after a busy day of sight-seeing around Quito. The views are terrific. Our gas BBQ is available for guest use and as you can see some of our guests have a big meal prepared.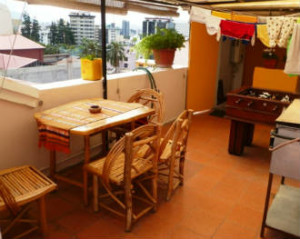 OUR TV AND COMPUTER LOUNGE
Our Lounge and TV room has comfortable seating area on cushions around the room. The Lounge has a NEW flat screen TV and a computer with Wi-Fi Internet access. There are over 100 DVDs and movies for viewing.