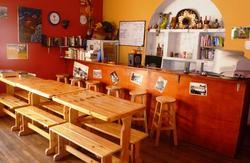 "Best hostel in Quito" 6 STARS
Reviewed April 2013
Revolution is probably the best place in Quito for travelers who look for something personal and quiet. We stayed here for some days and had a great time. The dorm rooms are very spacious. Also, every bed has an own locker which is perfect. The kitchen is definitively the best we have seen so far during 9 months of traveling. The whole hostel is very clean and there are a lot of bathrooms. No waiting in the morning 🙂 The WiFi is very fast and you have connection within the entire hostel. From the hostel it is only a 15 walk to the Old Town and a 20 minute walk to La Mariscal. The staff is very helpful and friendly! We hope to be back one day!                                            travelled as a couple. — 7 reviews
Fantastic hostel. I used this as my base while checking out surrounding towns and the Galapagos. Not too big so very easy to get to know other travellers. Probably the cleanest hostel I've stayed in in South America. Great kitchen, very well stocked with anything you could possibly need. Great friendly vibe with fantastic staff! Highly recommend. Thanks for the stay
Highly recommend. Sandra is the new owner since October and is so Kind and really cares for her guests.Great comfortable beds, very clean Hostel with good Kitchen facilities and great location. Nice sitting room würg DVDs Also.
Stayed October 2013, traveled as a couple — 20 reviews
"Really nice guesthouse!!"  6 STARS
Reviewed October 2013
We spent our 2 first days in Ecuador in this guesthouse and Sandra gave us a really nice and warm welcome. You feel like home. It's a simple but real guesthouse. Sandra the owner is new in the city, she came from Montreal and ready to help you! I'd recommend it for sure! 🙂
Stayed October 2013, traveled with friends — 3 reviews
"Feels like Home"   6 STARS
At the door of the historic centre in Quito (10min walk) and just down one of the best panorama of the city by the cultural centre, this hostel is particularly cozy but also clean and comfortable. Sandra the new manager is just great and really helpful! (She helped me notably to recover my suitcase lost in Miami).
Stayed October 2013, traveled with friends — 4 reviews
"Clean, Convenient, & Quiet Superb Value" 6 Stars
Reviewed 28 August 2013
This hostel is advertised as a "chill hostel" and it lives up to its billing. This definitely not a party hostel and suits "older" budget travelers (like me) as well as the younger crowd. Nice cross section of interesting people mostly going to or coming from the Galapagos, Columbia or Cuzco. Got some real good advice from the owner Matt and from a couple just returned from the Galapagos. The place was completely full when I was there so be sure to book ahead. The place has everything a budget traveller needs. Comfortable beds, well equipped kitchen with a fridge, TV lounge room, rooftop terrace with a view, a foosball table and most importantly for me a Happy Hour Bar with great beer. They heat the shower water with propane so the temperature can fluctuate so caution is needed. Unlike a previous reviewer, I found this place to be extremely clean. The bathrooms, the dorm rooms, and the TV lounge were clean and tidy. I have never stayed in a hostel where the sheets are changed every day. What a treat! There is no soap provided by this is the norm in budget hostels. I always travel with my own soap and shampoo. You can get towels from Matt or one of the volunteers if you need one. There is no breakfast provided but there is a local market about 10 minutes walk towards the town centre which sells everything you could possibly want. I loved the location as I like to walk. 15 minutes to Las Mariscal, 10 minutes to San Blas and the tour operators, 15 minutes to the central transportation hub in the old town. There are three really good restaurants close for lunch and dinner. WIFi works but could be better. The computers seem to have been recently replaced and are good for on line searches. You won't be disappointed in this hostel. At $9.00 bucks a night you cannot beat it in Quito. I checked all the others and their rates are NOT as advertised in the guide books as they all seem to have increased.
Room Tip: Try to get the matrimonial. Its worth the extra cost.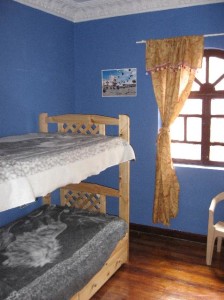 Reviewed 11 August 2013
This hostel is awesome. Best Ive stayed at so far in south america. It has a very friendly, community type vibe to it that is so welcoming. I keep coming back! Dorms are a good size, lockers beneath the beds, warm blankets. Plenty of bathrooms, hot water, kitchen facilities are available. Wifi works throughout the entire place (even on the roof where they have a patio table). There are a few common rooms on the main floor- one for dining and one for lounging and watching movies. Staff is very friendly and helpful. And the entire hostel is extremely clean. So refreshing! It's not in the middle of Quito's night life, but it is an easy 5 minute bus ride from that part if town. I recommend booking a few days in advance, you don't want to miss out on this one.
Stayed August 2013, travelled with friends